Making the book trailer was fun.
It was so good to spend some time trying to recreate the past.
I'm probably more of a storyteller – certainly no historian, regrettably. But I do love anything which brings the past to life in a vivid way.
So I thought now would be a good time to reflect on some of the places I've visited that have helped me to imagine Janet's world in Fir for Luck.
First of all, the Highland Folk Museum in Newtonmore:  We used to take our young children there not so very long ago. I remember being surprised just how little light got in through the narrow window of a typical longhouse. And the strong smell of the peat fire. Perfectly dressed up volunteers teaching us all how to spin wool. A guy showing us how to twist reed into rope. Ink and proper quills in the schoolhouse, and being told that my effort was nowhere near good enough. It made it so much easier to imagine Janet's life in her 1840s community. The book trailer filming may not have worked out here, but visiting this place is an excellent experience, and free entry to boot!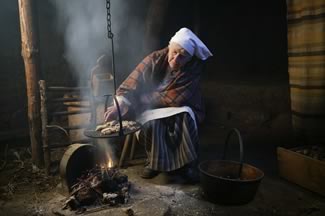 Strathnaver Museum: Apart from the huge part they played in helping make the book trailer, they are located right on the North 500 route and have two brilliant pit stops very near – the café just beside its car park and the wonderfully friendly Bettyhill Hotel. It is a small building, located by the sea and surrounded by a small graveyard. It is furnished and looked after with an evident love for the past and the heritage of the region, with a particular emphasis on Highland Clearances history. I simply could not have written Fir for Luck without the research I did here and nothing was too much trouble.
And finally, we are frequent visitors to the Isle of Skye where the Skye Museum of Island Life is yet another option for immersing yourself in the way of life of the past. Like the Highland Folk Museum, it has several buildings to explore, with hands-on experience as well as an eclectic collection of exhibits.
I don't know about you, but I'm not content with just knowledge about the past – I do need a story. But once I have a story, I'm hungry for the details which make it real.
These places are precious, because they offer just that.
Unfortunately, museums like these are also under threat from time to time – it's just the kind of world we live in now. Maybe pay them a visit if you are nearby? Because by enjoying them, we also preserve them for the generations to come.